Places to Explore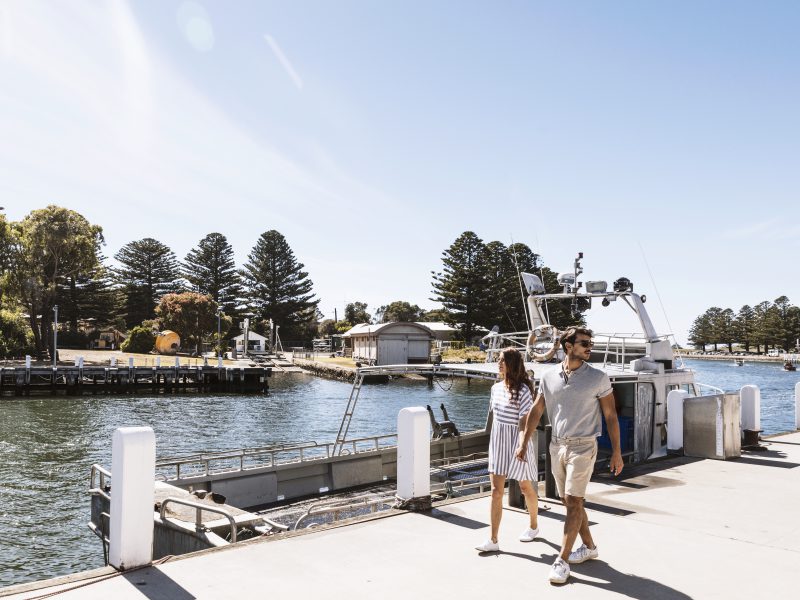 Budj Bim National Park is only a five minute drive west of Macarthur via a sealed road. Geologists estimate that Budj Bim first erupted around 30,000 years ago, producing a river of hot molten lava that flowed around 50km south to the sea. This lava flow effectively dammed rivers and streams forming large wetlands and swamps. Budj Bim National park features several walking tracks, a camping area and excellent picnic facilities. The geological features include Lake Surprise, a beautiful crater lake, lava canals, a natural bridge, lava blisters, collapsed lava tunnels and lava cake (take a torch). The park also contains Victoria's last great stand of manna gum woodland, the favourite food of the resident koala population.
West of Port Fairy, Lady Julia Percy island is Australia's only submarine volcano. When lava erupts under water a typical type of lava called pillow lava occurs. These are tube like structures where the interaction with water forms a crust on the outside and molten lava continues to flow inside. This island is home to the largest colony of fur seals in the Southern Hemisphere and several bird species. These include diving petrel, peregrine falcon, fairy prion and sooty oyster catchers. A number of small but unusual plant species survive in the caves in the cliff walls.
Tours are available and details can be found at the Visitor Information Centre
The Crags
A short drive west of Port Fairy you will find The Crags. Crags is a wild and scenic section of the coastline with calcified tree roots, jagged outcrops and panoramic views along the coast. The rocky cliffs protect small bays and are rich in wildlife including significant Silver Gull breeding site on the eastern most island. you can view the whole reserve from the lookout including Lady Julia Percy Island offshore.
The area contains many aboriginal cultural sites and places and has spiritual connections with Lady Julia Percy Island. The Crags was used over many thousands of years as a gathering, ceremonial and feasting place for Aboriginal people. Its cultural significance is listed on the National Estate of Australia.
Tower Hill State Game Reserve to the east of Port Fairy is a rare example of a nested maar volcano, and was declared Victoria's first National Park in 1892. Local animals and plant species are in abundance however it wasn't always like this. Following European settlements of the western district land was cleared for farming purposes and the area became quite degraded and barren. In the 1960s groups of people including field naturalists, school children, sporting shooters and many others began to restore the landscape. Over time as the trees and shrubs matured, birds and animals returned to Tower Hill. Picnic facilities, an interpretive centre, tours and walking trails make this a "must do" activity. Discover Tower Hill from local tour guide Shannon Collyer