Trails & Tracks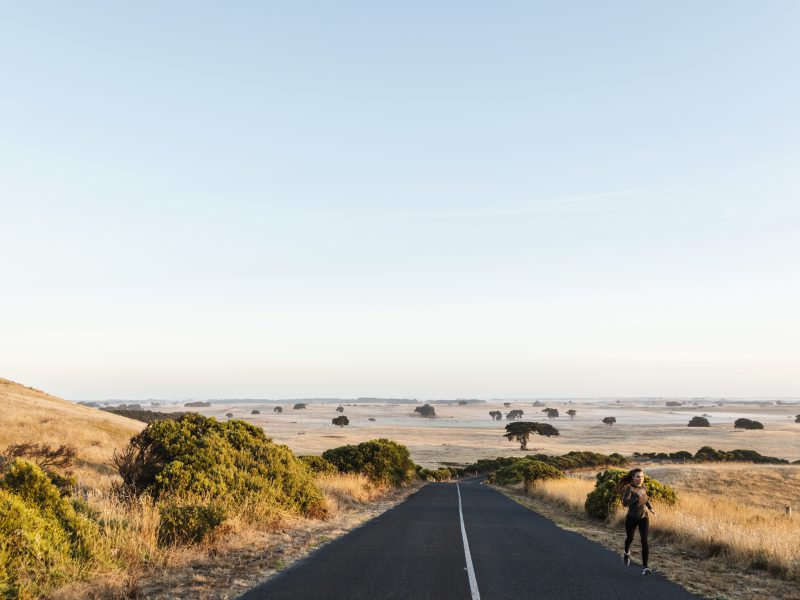 Meet koalas, emus, kangaroos and many species of waterbirds roaming freely in Tower Hill Wildlife Reserve, which sits inside an extinct volcano formed some 30,000 years ago.
Declared Victoria's first National Park in 1892, Tower Hill is the ideal place for visitors to experience the Australian bush, enjoy magnificent scenery and landscapes while getting up close and personal with some of Australia's most iconic native birds and animals including emus, koalas, kangaroos, wallabies, echidnas and seasonal reptiles.
The Reserve and its plethora of wildlife provides visitors with the rare opportunity to witness animals at close range in their natural habitat. This, combined with guided tours to learn about Aboriginal history and cultural heritage provides a unique eco-tourism experience.
Worn Gundidj guided tours are available everyday at 11am and 1pm. Attractions on offer include walking tracks, picnic facilities and lookouts.
The Mahogany Ship Walk
The 22km beach walk from Warrnambool to Port Fairy passes the last known resting place of the elusive Mahogany Ship, thought to be a Portuguese caravel that was wrecked in the early 1500s. It later vanished under drifting sands in the 1890s.
The area is also home to echidnas, rare hooded plovers, mutton birds and crested terns. In winter or spring, you might even glimpse a southern right whale. For shorter walks, enter the region at one of several access points along the way.
Griffiths Island
Griffiths Island, with its colony of shearwater seabirds, winding pathways and the spectacular lighthouse at the eastern tip, is a great place to explore.
A short walk along the causeway from Martin's Point gets you onto the island. Dogs are not allowed on the island and visitors are urged to stick to the walking tracks, which wind through the low lying scrub. Nesting birds, including the shearwater's that migrate from the northern hemisphere each year, create burrows for their young hidden in the sand and it's important these nests aren't disturbed by wandering sightseers.
The Island was name Griffiths after John Griffiths, who established Port Fairy's whaling industry on the island in the 1830's. No trace of this activity can be found today.
Port Fairy Lighthouse
The lighthouse – c.1859 and built of local bluestone – stands sentinel on the eastern tip of the island and still sends its light out to sea. These days it's a solar powered light with a wind assisted generator. The lighthouse keepers' cottages were demolished in the 1950s; however, their gardens live on with many hardy plants flowering in the appropriate season.
Birdwatching on Griffiths Island
At dusk birdwatchers are in for a treat as the colony of shearwaters, or muttonbirds, return in swarms to their nests after a day fishing out to see. These little birds arrive here late September from the Aleutian Islands near Alaska. Following the laying and incubating of their eggs in January, the birds leave again for the northern hemisphere in April.
Port Fairy to Warrnambool Rail Trail
The official opening of the Port Fairy to Warrnambool Railway line took place on 25 February 1890 with the biggest ceremony and banquet that Port Fairy had ever enjoyed. The last train came in September 1977. Railway Place was the site of the Station, The Goods Shed and the Station Master's Cottage both of the latter still remain.
The Port Fairy – Warrnambool Rail Trail is a continuous 37.32km walking/cycling pathway which meanders through a highly scenic, diverse and relaxed part of south-west Victoria. Encompassing historical, agricultural, Indigenous and nature-based themes, it is a 'must do' for anyone visiting the region.
Making its way through rural landscapes and farming communities, the user will travel through dairy and beef farming country as well as remnant forest, skirt the north side of a 25,000 year old volcano (Tower Hill) and traverse wetlands and coastal sand dunes.
The trail encompasses the historic towns of Port Fairy and Koroit, rural countryside, woodlands and native vegetation, extensive sea views of Killarney, extensive woodlands, coastal sand dunes, the Merri River wetlands and Warrnambool breakwater precinct.
The trail has a gentle gradient and is suitable for use by cyclists and walkers of all ages and levels of fitness. Township sections are bitumen, allowing for use by mobility scooters, wheelchairs and the elderly. There are three major entrance/exit points to the route – Port Fairy, Koroit Railway Station and Warrnambool Breakwater – allowing users to determine their own length of travel.
Energetic walkers are able to continue on the 22-kilometre Mahogany Walk, which creates a circular route along the coast.
Port Fairy Historic Town Walk
There are over 70 buildings of historic significance around Port Fairy and the best way to appreciate this legacy is on foot. Two walking trails have been established within Port Fairy, the History Town Walk and Shipwreck and Maritime Heritage Walk. Both walks have self-guide walking maps made available via the Visitor Information Centre. Guided tours can also be arrange upon request.